"Not to sound cliché, but Summer's Fitness has literally changed my life."
Those words, not said lightly, describe how Samantha took a small step towards a healthy lifestyle that made a HUGE difference in her life both personally and professionally.
At the young age of 25, Samantha became the CEO of her very own business, and since joining Summer's Fitness, has become the CEO of her life.
Samantha is a hair stylist and salon owner, Modern Hairitage Salon.  Like many entrepreneurs, Samantha spent long hours building her business and left little time for anything else. 
"I became so engrossed [in my business], that I put my health on the back burner.  I had no exercise or nutrition routine, I ate whatever, whenever, and working out?  No, I didn't have time for that!" she says.
Samantha would justify her decisions by saying, she didn't have time to workout or eat healthy, and she was "fine" with her appearance.
What finally made her decide to try was the fact that bootcamps were a quick 30 minutes.  Who would have thought those 30 minutes would be LIFE CHANGING?!?!
Since joining Summer's Fitness, Samantha said her life has changed drastically.  "I've progressed in my career, I've learned to truly love myself and the skin I'm in, and I'm just all over happier.  The physical part of my journey is only half of what I have gained from joining Summer's.  It started from within.  I realized that if I don't put my health and myself first, I would be no good to anyone. For the first time in my life I truly know my body, and I love being healthy!  I'm a better friend, a better daughter, and a better boss now. The mental strength I have gained in the last 15 months is almost indescribable. I now have the mind set that I can do anything…and I will!  I want the people in my life to feel how I feel, it's truly the best thing you can do for yourself."
Samantha was the CEO of her company, and now she is the CEO of her life!  Summer's Fitness helped her discover how she can have the best of both worlds!  "I have achieved things I didn't even imagine possible," she says.  "I walk differently, talk differently, and feel differently.  I pushed myself harder at the gym, and have used the last year to focus on my life and what makes me happy. I still have many health goals I want to accomplish, and I'm so excited for the continued journey!"
Today, Samantha is not only thriving personally, but her business is, too!  "I am in the process of expanding and relocating my salon and we will be having our grand opening on April 14th!
Even though I am busier than ever right now I have made the decision to still put my health first.  Eating right, working out at the gym – I feel like that is my core, and without that I won't be able to function to my full potential."
Sam is showing you can have it all without sacrificing your health. Way to go Sam!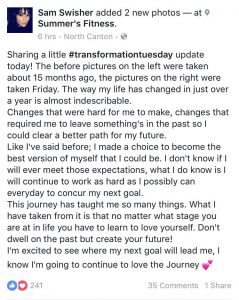 Are you ready to put yourself health and wellness first and become the CEO of your life like Samantha did? Give us a call at 330-497-2474 or click here to request a complimentary visit.