Find the Right Fit Today.
Whether you want to lose 20 pounds, regain your health, or kick butt at your next 5K, we have a program for you! My Team and I have been successful helping hundreds of people reach their personal best in fitness, and in life. We know how to coach you to get amazing results, in just 30 minutes, a few times a week. Check out our 4 personal training options below.
xoxo Coach Summer
In-Person and Virtual Interactive Coaching Options Available!
Fitness Bootcamp
GROUP PERSONAL TRAINING
Summer's Fitness Bootcamp is a fun, fitness and fat loss program that burns fat and will get you in the best shape of your life! Our high energy, safe, and supportive group environment works for all fitness levels, from beginner to elite, and delivers twice the results in half the time!
Strength & Conditioning Camp
Take your strength, fitness, and conditioning to the next level with Summer's Fitness Strength & Co. Camp! Our specialized small group personal training program offers you more individualized attention to maximize your goals, without paying a premium for private personal training. Train like an athlete and look great with function for fitness combined. Our supportive coaches & atmosphere will help you test your limits to achieve your personal best!®
(This is a small group personal training program.)
Forever Fit
(This is a small group personal training program)
Summer's Fitness Forever Fit is low impact, training at it's best so that you can be fit, strong and LIVE the life you want! These group workout sessions (2-6 participants), are designed by our functional fitness specialist, to help individuals enhance an active lifestyle by promoting strength, endurance, agility, balance, and flexibility, without stressful or high impact moves, even if you've had previous surgeries or injuries. You were designed to move and you don't live life sitting down! Our coaches focus on keeping every workout fun and safe so you can be fit forever!
1 on 1, Private Training
Do you have a past injury or surgery that you feel is holding you back?
Do you have some super serious goals that you would like to address?
Maybe you want to fine tune your form or learn some new moves, that require a 1 on 1 coaching setting?
Or maybe you just want some 1 on 1 private time dedicated 100% to you?!
Whatever your reason, we'd love to explore our 1 on 1 Training Option with you!
Click The Button To Request a Consultation or Call/Text 330-497-2474
WE LOVE OUR CLIENTS
LET'S FIND THE PROGRAM THAT'S RIGHT FOR YOU

BOOTCAMP - STRENGTH - FOREVER FIT
3 FREE Group Personal Training Workouts
Our amazing, caring professional coaches are dedicated to helping you achieve your personal best!® 
10+ sessions offered each day
Custom plan and program tailored to YOU
Small exclusive group environment
ALL fitness levels welcome
New/Returning Client Special
21 Day Jumpstart for Only $49!
Virtual or In-Person Available Now!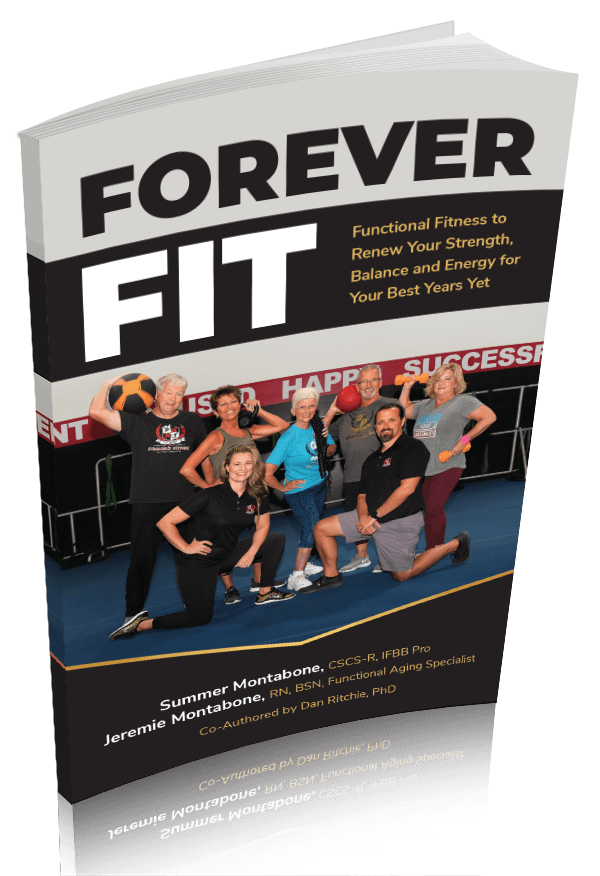 Check out our book:
FOREVER FIT
Functional Fitness to Renew your Strength, Balance, and Energy for Your Best Years Yet
Summer Montabone,
CSCS-R, IFBB Pro
Jeremie Montabone,
RN, BSN, Functional Aging Specialist
Co-Authored by Dan Ritchie, PhD