SUMMER MONTABONE, CSCS*R
Founder
Summer Montabone has a passion for helping people live happier, healthier lives. It's a passion that has expressed itself in many ways over her life and career — through her roles as a teacher, coach, professional athlete, entrepreneur and mom.
As the owner of Summer's Fitness in North Canton, Ohio, Summer and her team of personal trainers offer fitness bootcamp and small group training programs designed to help clients meet their personal fitness goals. The facility, which opened in 2007, has enabled Summer to help thousands of men and women not only lose weight and gain confidence, but transform their lives in the process.
Fitness has played an important role in her life long before opening Summer's Fitness. As a track and field athlete and gymnast at The University of Toledo, Summer graduated in 1998 with a bachelor's degree in health and physical education. After teaching at Toledo Whitmer High School, she moved back home to Akron, Ohio and started her personal training business in 2002. She became a Certified Strength and Conditioning Specialist (CSCS) in 2003 through the National Strength and Conditioning Association, and is also certified in prenatal and HPL resistance band instruction.
During this time, Summer also began competing as a professional fitness athlete. In 2004 she won both the "tall class" of the National Physique Committee (NPC) Fitness Championships and the overall NPC Ohio State Fitness and Figure Championship. As an "IFBB" professional athlete, Summer has appeared in national fitness magazines and DVDs as both a model and contributing expert.
A serial entrepreneur, Summer's personal training business didn't stop with the opening of her fitness facility. She went on to create MySpeedCoach.com, a comprehensive speed and agility training program which offers custom programs for anyone from middle school students to professional athletes. Summer also founded Forever Fit, which is designed to help mature adults live the life they want. The specialized program helps strength, mobility, balance, and endurance, regardless of current fitness, and even if clients have had injuries or surgeries.
After hitting rock bottom with postpartum depression in 2011, Summer regained control of her life and turned her studies to personal development and coaching. Summer offers coaching, consulting, and mentorship via www.summermontabone.com . She is on a mission to empower women to become fearless decision makers and CEOs of their own lives!
Summer has been invited as a contributing expert to speak and write for organizations such as the Functional Aging Summit, International Society of Sports Nutrition, and Oxygen magazine. Summer is a highly awarded professional, having earned the Women's Impact Award, Circle of Excellence, Presidents Circle, and Best of Canton Business awards. She is also the co-author of two books; Forever Fit and Start Up, Start Over or Just Start. 
Summer is also involved giving back to her local community. She is a founding member of Women's Impact Inc., a contributor to Girls on the Run, My Comfy Kits, and many other local charities. She currently lives in Jackson Township, with her husband Jeremie and their two daughters.
JEREMIE MONTABONE, RNSA, BSN, FAI
Hello my name is Jeremie Montabone. I was born and raised in Ohio and live in Jackson Township. I am married to Summer my beautiful wife of 19 years. We have 2 daughters, Lennox and Layna, who are full of energy and are free spirited. I love to exercise, hike, fish, travel, and spend time with my family.
I attended the University of Toledo, where I obtained a Bachelor's of Science in Nursing. I have been a Registered Nurse for 17 years. I started my career as a staff nurse in open-heart surgery, then obtained additional credentialing as an RN First Assistant, and  became the Clinical Lead of the Open Heart Department.
In 2008 I was fortunate to have the opportunity to start the Open Heart program at Affinity Medical Center. We had a very successful program and continued to grow each and every year. In November of 2017 tragedy struck our Hospital and community. Our friend and coworker, cardiologist Dr. "Skip" Seese was shot and killed. We continued to press on as a hospital, but it was difficult. In January 2018,  we were informed the hospital would close and cease patient care within 30 days. All leaders were required to stay until the closing process was complete. My last day of work in the hospital setting was March 6, 2018.
With this time, I saw an opportunity to reinvent myself, as a person, and as a Nurse. I wanted to turn a scary and uncertain time in my life into a positive. I took a few months off to spend as much time as possible with my family.  I obtained a personal training certification and attended the Functional Aging Institute, becoming a Certified Functional Aging Specialist.
I have been with the Summer's Fitness Family since it opened in 2007. For the second time in my career I am blessed to be able to start a new program. I was honored and excited to be chosen to start the Forever Fitcamp program. I am now able use knowledge, as a Registered Nurse and a Functional Aging Specialist, to help clients on their commitment to themselves to become healthier, happier, and more fit than they have ever been.
LINDA MANSE-SKEMP
Hi, my name is Linda Manse-Skemp. I am married to my wonderful husband Joe. We are a blended family with 4 children and 7 grandchildren. Family is the most important thing to me. We are blessed to have all of our children live close to us and love when we can all get together.
I love the outdoors. We live at Lake Cable, right on the lake, and take advantage each day of being able to boat, kayak , swim and fish. I also enjoy gardening, cooking, hiking, biking, reading, all fitness related activities, and being a mom and "Mimi" to my family.
I graduated high school from Hoover and have a business degree from Walsh. I have always lived in this wonderful community and could not imagine living anywhere else.
I have been teaching fitness classes for over 25 years and have achieved several types of certifications over the years. The fitness industry changes so much and is always developing new & exciting ways to stay fit, so I enjoy learning new fitness regimens as they evolve. My most recent certification is in Yoga. I have been teaching Yoga for the past four years and currently working on my next level of certification.
Being a local girl, I read Summer's Fitness advertisements many times over the years and always thought "I need to see what this place is all about?"  So… I went in and took a few sessions and LOVED the mission and program structure Summer was offering. When I was contacted by Summer to possibly be part of her team I jumped at the chance. Since 2015, I continue to love every minute I get to help change lives. I enjoy helping individuals adapt and overcome their fears of fitness. I especially enjoy seeing members get stronger and see results not only in their bodies, but also in their confidence levels, mental & emotional health. I enjoy the connection and friends I have made since coaching at Summer's Fitness.
I have a full time career as the Office Manager/Controller at Toth Buick GMC, which I enjoy , but near as much as I do being a trainer coach at Summer's Fitness.
Fun Facts About Me:

I have now completed my 500 hour yoga training, certified through Yoga Alliance 

One of my favorite outdoor activities is paddle boarding

My favorite food is grilled salmon
LORI LUCIUS
Hello, my name is Lori Lucius. I currently live in Uniontown with my husband, Robert, and our cat, Richard. 
We have officially joined the 'empty-nester' club, as the twins, Bailey and Chelsey, are currently serving in the US Marine Corps and Garrett is a student/athlete running cross country and track at Otterbein University. Bailey and his wife Kendall recently welcomed their first child, Nora, and we can't get enough of her! 
I'm sure that I have seen many of you in various personal training sessions in my 3 years as a Summer's Fitness client. Fitness has always been a part of my life. I played softball in highschool and later enjoyed running 5k's and half marathons. I also had the privilege of coaching Girls on the Run for several years. I loved serving as a mentor to the young girls and helping many of them conquer their first 5k. 
Outside of Summer's Fitness, I work full-time as a Risk Manager for a national construction company. My job responsibilities include: helping individuals transition to their "new normal" after a life changing injury and providing compassion and a sympathetic ear to help individuals navigate through their most challenging times during the healing process. 
My desire to help others with positive motivation is what I hope to bring as a coach to Summer's Fitness. 
Fun Facts About Me:

My husband and I have a passion  for cars and can be seen at local cars and coffee or a local cruise-in (when the weather cooperates!)

My husband and I are also members of the Akron Sports Car Club and that's how we spend many of our Sundays
CARA CALLAND
Hello, my name is Cara Calland. I grew up in Westerville, Ohio and fitness has been a part of my life for as long as I can remember.

Although I didn't think of it as 'fitness' at the time, I played soccer, basketball, softball, and many other sports growing up. This foundation of activity was rocked when I was in high school and had to get knee and wrist surgeries due to some injuries. I hadn't realized how central being able to move and be active was to my happiness and wellbeing until it was taken away from me. This personal realization has, over time, led to my interest in coaching and educating others so that they can also live functional and healthy lives. This is what ultimately led me to my desire to work at Summer's Fitness.

My education in fitness is ongoing, as I have my Bachelor's Degree in Biology from OU and my Master's Degree in Teaching from Kent State University. These days, I have not played as many team sports, but I have gained a lot of interest in outdoor activities, such as hiking, paddleboarding, trail running, and kayaking.

I am so excited to see everyone (including myself) grow at Summer's Fitness! Cara has also successfully completed the Summer's Fitness Inc. Certified Fitness Coach Program and obtained her ACE Personal Trainer Certification. 
Fun Facts About Me: 
I'm a pescatarian, mostly because I love cheese too much to ever give it up entirely (and I've tried!) 

I grew up watching a lot of movies and one of my favorite things to do is go to the movie theater to see a cinema on the big screen

In the summer, I love to go to drive in theaters when it's nice out 

I have two cats at home, Rosa and Apollo, that I love dearly!
FRED PARSHALL
Fred (Charles) Parshall

Hello! My name is Fred Parshall. I am 58 years old and a husband and proud father to two young adult girls. I did my formal education at BGSU, earning a Bachelor's of Science in Construction Management and then went on to KSU to earn a Bachelor's in Architecture. I have worked in the architecture industry and am currently semi-retired.

I grew up in the woods, ponds, and creeks of Copley, Ohio. These were the playgrounds for my large gang of neighborhood friends. As kids, we played a lot of football, soccer, and baseball. I was 19 years old when I started playing rugby at BGSU. Rugby is my lifelong sports passion – my wife and I really enjoy travel and rugby dovetails nicely with experiencing the USA and other world cultures. I still attend practice at least one a week with my home club, the Akron Rugby Football Club. 
I've tried to live by the motto "If you don't use it – You lose it", and I've tried to model an active lifestyle for my family. Despite that, it has always seemed difficult to maintain a lifestyle that includes exercise. Like most of us, I put a lot of responsibilities ahead of my physical well being. This resulted in years of fluctuating fitness levels and weight gain. By the end of 2017 my knees no longer allowed running. A year later, I was over 200 lbs. 
My wife discovered Summer's Fitness and convinced me to join. It was exactly what I needed. I incorporated Strength and Conditioning into my schedule three days a week. I changed my diet and lost 30 lbs. Coach Aaron is perfect. He senses I want to be pushed and he guides me all the way. Strength and Conditioning got my legs back into shape and I was able to start running again. Now I am in the best shape I have been in decades. I am so happy with the results.
This is why I decided to join Summer's Fitness coaching team. I want to be for others what Coach Aaron is for me." Fred has also successfully completed the Summer's Fitness Inc. Certified Fitness Coach Program.

Fun Facts About Me:

Favorite Books:

The Day the Universe Changed

by James Burke,

The Reasons Why

by Cecil Woodham-Smith,

From Bauhaus to Our House

by Tom Wolfe

Favorite Vacation Spot: Europe, particularly France. My wife and I will be going to the Rugby World Cup in 2023. 

Our family is smitten by our black cat, MoMA!
LAUREN STONE
Hello! I am Lauren Stone. I grew up in Columbia Station riding horses and playing in the creek. I currently live in Cuyahoga Falls with my husband, Lee, my son, Clayton, my daughter, Stella, and our Boston Terrier, Larry. I love to do anything outdoors, especially hiking news trails! I also LOVE lifting in the weight room (which is actually where I met my husband!). 
I went to Kent State University to study Special Education. I received my Bachelor's of Science in Education from Kent State and then went on to receive my Master's degree, from KSU, in Special Education with a transition to Work Endorsement. I have been an Intervention Specialist for 15 years at Tallmadge High School, working in our resource room. I truly love my job – there is never a dull moment. What's helped me enjoy my job is finding a work/life balance.
At college, I began competing in Physique competitions and asked Summer to be my coach. I competed for a little over 5 years until I decided to retire. I received my Personal Training Certification from the American College of Sports Medicine in 2013 and from there my relationship with Summer has grown. I worked as a personal trainer at Summer's Fitness until I had my son in 2016 and then slowly transitioned to working with Summer remotely. I currently write the programming for online clients as well as write and provide an outline for inhouse training. Summer has become a great friend and mentor over the last 17 years of our friendship.

Although it has been some time, I love to travel and explore. My favorite vacation was a 13 day trip (cross country!) taking us through Yellowstone and down into Colorado. I like to read when I can, and my favorite book is Where the Crawdad's Sing. I am always game for a good movie, with my two favorites being 'Remember the Titans' and 'Pretty Woman' – but do not expect me to stay awake or get up at least 7 times during the movie . . . I have a hard time sitting with idle hands! 
Fun Facts About Me:

My favorite food is either grilled scallops or Mrs/ T's cheddar pierogies

My favorite dessert is a s'more and I have mastered roasting a marshmallow!

I grew up riding horses

I am a huge hockey fan 

I raised a pig for a fair when I was 12

My favorite exercise is the wide grip pull-down!
KEELY SNODE
Hello! My name is Keely Snode. I am the Director of First Impressions here at Summer's Fitness. As a lifelong Stark County resident, I currently live in Alliance with my husband of 10 years, Kevin, my 6-year-old daughter, Morgan, and our four-legged baby dog, Sully (he is 13 but is still our baby).
I started working at Tannenhauf Golf Course when I was 15 years old, and that is where I met my husband. I graduated from Louisville High School and then went to Kent State University where I graduated with a degree in Organizational Communication. After graduation I always figured that I would get a job doing human resources. However, in 2008, I decided to buy a Curves franchise instead. I loved what I did and helping all the members that became like family. Unfortunately, in 2015, I decided to close the business. It was an extremely hard decision as I loved it so much, but I was pregnant and it was the best decision for our growing family. After having my daughter and returning to the workforce, I tried other jobs that just were not a fit for me and my family.
In June of 2019, I found a job post that I was so excited to apply for. It was a fitness studio and some of my work could be done remotely. It sounded perfect!! I could work and be able to balance home life, which I just did not feel that I had. Keely has also successfully completed the Summer's Fitness Inc. Certified Fitness Coach Program.
As I am sure you can guess, it was Summer's Fitness. I was beyond excited that out of all the people that applied, Summer chose me. I have never been so blessed to work with a team that just gels. Not only that, the members are fantastic, too!! I love coming to work and I love what I do. The community here is indescribable. I could not be happier being a part of #summersfitnessfamily.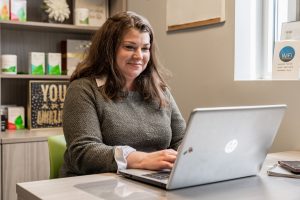 Fun Facts About Me: 
Favorite Book:

In Cold Blood

– By: Truman Capote 

Favorite Vacation Spot: Anything all inclusive 

Favorite Exercise: Bootcamp at Summer's Fitness

Favorite Food: Scallop Risotto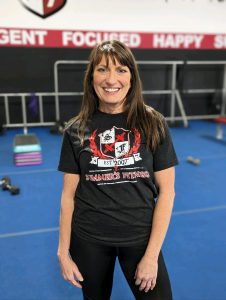 NALANA KARDOS
Hello, I am Nalana and grateful to be approaching my 55th birthday in August feeling healthy and strong. I have been married for 35 years to an amazing man. Last year I went part-time at my corporate job after 36 years to pursue my passion for health and fitness. I love animals and I am happy that I can combine this love with my love for fitness by volunteering at One of a Kind Pet Rescue walking/running with the shelter dogs.
I started working out at 19 and never stopped. I obtained my Group Fitness, Barre and HIIT certifications. Summer's Fitness has the same core principles that I have when it comes to fitness. I love the family and team atmosphere!
Nalana gives this advice: "You are the greatest project you will ever work on. Take it seriously and commit 100%."
Fun Facts About Me:
Favorite Vacation Spot – Riveira Maya, Mexico
Favorite Food – chicken and rice bowls (healthy) but I really like pizza
Favorite Exercise – push-ups
Nalana also says; "I am 100% dedicated to every project that I take on and I never give up.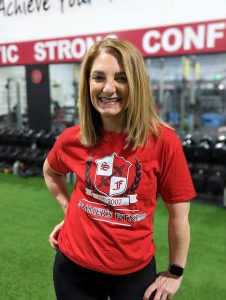 TERRI TEITEL
I'm thrilled to become a part of the Summer's Fitness Team! I can't wait to get to know each of you! I am 55 years young, loving my crazy, exhausting, fun filled life!
A few of my highlights include: mom to a 20 year old son with Asperger's Syndrome, along with my two wonderful stepsons and a daughter-in-law, Breast Cancer Survivor -14 years strong, outside sales representative in the HVAC industry, where I have just recently won a trip to the Bahamas for Top Commercial Sales.
I have a fitness and fashion passion! Pretty sure I have at least 50 pairs of workout leggings!! I am a certified Spinning Instructor. I love thrifting, pickleball and travel, so far my favorites are Phoenix, Seattle, Greece and Ireland. Next stop Switzerland – 2024! Oh and I'm getting married to my love of 15 years in July 2023, and what a party we are planning! 
Terri's Favorites:
My favorite food is chocolate!
My favorite exercise – bicep curls!
Favorite Vacation Spot – Greece
I'm excited to be a part of the Summer's Fitness Family because over the last 5 years or so, fitness has really become part of my identity. I am "chasing strong", always striving to improve my strength, mentally and physically. I consider this as an opportunity to further my personal fitness journey and eager to share the knowledge and experience that I have and will continue to gain with others.
My #1 piece of fitness advice is consistency. Keep showing up, keep putting in the work. It will pay off!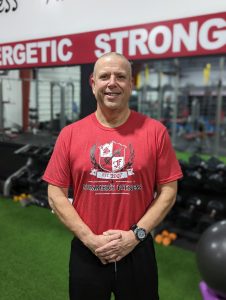 RON MEISER
I am a husband to Felicia and a father to 4 children; Cadance, Braydon, Lexi and Ava. As a coach, my family is extended to all of my former and current teammates, coaches and athletes! I am so appreciative and love them all!
My Journey: 
I was an overweight child which led to a fluctuation in weight over the years. While playing competitive lacrosse, I fractured 2 vertebrae in my lower back from a car accident. Back discomfort and weight gain eventually forced me to use the railings of my headboard to pull myself up and out of bed. 
I was also diagnosed with type 2 diabetes and informed I would be on medicine for the rest of my life. 
Not addressing previous athletic injuries, I became unable to hold a bottle of water to my mouth or toss a nerf football with my son. Two doctors advised me that I needed shoulder surgery, one stating he didn't even know where to start. 
Today I hop up out of bed, simply because I can! 
I have zero signs of diabetes without any type of diabetic medicine! 
This past year at 46 years old, I participated in 3 basketball leagues. Two of the leagues were 18 and over! I am still surgery free and have overcome these obstacles with diet, strength, and yoga training. 
I have a passion for influencing others to live their best life! 
Ron's Fitness & Coaching History is quite extensive: 
 Sports Past & Present: Soccer, Basketball, Football, Baseball, Lacrosse, Boxing, Cross Fit
 2015 – present DDPY: A Form of Power Yoga that mixes yoga positions and rehabilitation   techniques, slow burn calisthenics and dynamic resistance 
 2018 – present: Boxing training
 Coaching: 
Lacrosse – 26 years of coaching men's & women's youth – College.
Basketball – 8 years of coaching youth & Middle School
Continuing education by attending multiple athletic conventions with speakers such as Herm Edwards, Lou Holtz, Jackie Joyner – Kersee, Carl Ripken Jr, Billie Jean King, John Danowski, and Arnold Schwarzenegger.
Ron's passions for coaching, health, and life led him to obtain certifications in both Health & Wellness Coaching and Life Coaching. 
Ron is excited for Summer's Fitness! 
I crave a team environment! 
I also crave the opportunity to guide and encourage others to become the best versions of themselves. Speaking with Summer Montabone about her passion for helping others with their personal development aligned with my interest and values! Training under the amazing coaches provided insight into a true team atmosphere! Summer's Fitness has the best Clients as well! Full of positive personalities all working for a healthier lifestyle!
I am privileged for this opportunity! 
Ron Gives This Fitness Advice:
Longevity – Mind & Body
Many people focus on the scale, mirror, clothing size, muscle mass, and appearance. Some focus on being fit and conditioned for a competition or athletic event. These are all valid reasons to practice a healthier lifestyle. 
Once we accomplish said goal. Then what? 
Our minds (also friends & family) will convince us that we deserve a "break". 
After being diagnosed with diabetes, pant size became less important as the quality of life became a focus. Instead of training for an upcoming marathon, train for your desired quality of life 10, 20 or 30 years from now! 
Ron's Favorites:
Favorite Vacation Spot – Beach or Lacrosse Tournament
Favorite Food – Lobster
Favorite Exercise – Boxing
LET'S FIND THE PROGRAM THAT'S RIGHT FOR YOU

BOOTCAMP - STRENGTH - FOREVER FIT
3 FREE Group Personal Training Workouts
Our amazing, caring professional coaches are dedicated to helping you achieve your personal best!® 
10+ sessions offered each day
Custom plan and program tailored to YOU
Small exclusive group environment
ALL fitness levels welcome
New/Returning Client Special
21 Day Jumpstart for Only $49!
Virtual or In-Person Available Now!