Just shy of her two-year anniversary, Summer's Fitness member, Judy, has completely transformed her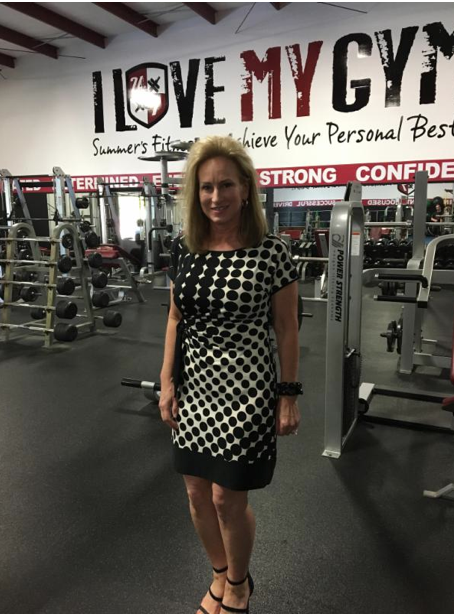 life.  In less than 24 months, she has lost 65 pounds, over 33 inches, and 11% body fat!  Amazing!!
"I'm in better shape than I was twenty years ago!"
Judy, now embracing the benefits that come with living a healthy lifestyle, remembers a time when she didn't feel as confident in herself.  "Before losing weight and getting into shape, I dreaded going places. I didn't look good and I didn't feel like myself," she says. "I wanted to hide.  I wouldn't let anyone take my photograph."
It wasn't until she ran into an acquaintance (that she almost didn't recognize!) who had begun working out with Summer's Fitness coach, Devin.  "He'd lost a lot of weight and he looked great.  He looked happier. I thought if he could do this, then so can I!  I signed up immediately."
Since then, Judy has not only been making progress in the gym, but also has learned a great deal about overall health and wellness.  "I've completely changed my eating habits," says Judy.  "I feel healthier and so much happier."
"I've lost 65 pounds and all of the 'skinny clothes' in my closet fit me again."
At 58, Judy feels better than she did twenty years ago.  "Now I can't wait to wear all of the clothes that have been hanging in my closet for years."  The support and motivation she gets from trainer, Devin and the rest of the SF team have helped her lose weight in a lasting way.  "Devin has pushed me to accomplish so much more than I thought possible. I absolutely do recommend Summer's Fitness whenever I'm asked."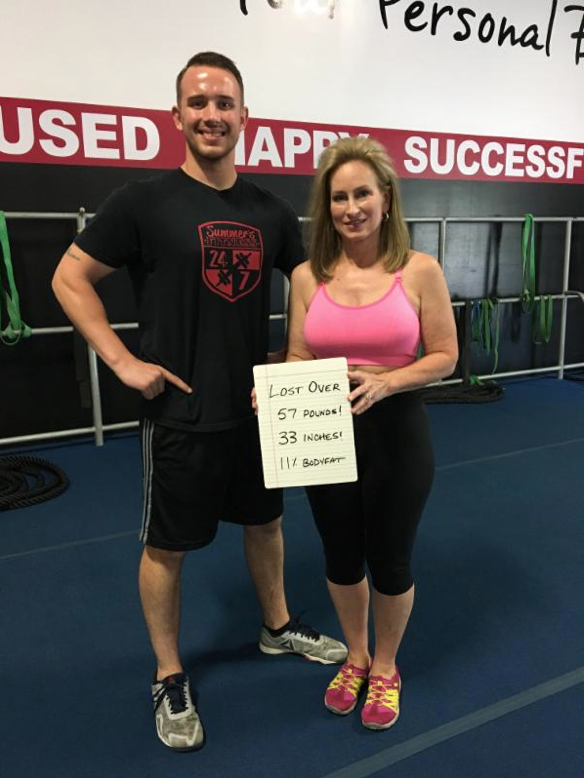 As a busy account executive, Judy's time at the gym is precious, which is why Summer's Fitness high intensity bootcamps  and personal training sessions are perfect for her.  30 minute classes, motivating coaches, and a holistic view of wellness has helped Judy achieve such amazing results.  Judy's advice to those thinking their time has past to get healthy is this:
"It's never too late to make positive changes and feel better about yourself."
We are soooo super proud of Judy!  It's hard to get started. It's even harder to stick to it. We make the process easy with a supportive team behind you every step of the way!  
When you are ready to make a positive change in your life, Call or Text us at 330-497-2474, email us, send us a message, or request a complimentary consultation at www.summersfitness.com. We look forward to the opportunity to make a positive impact on your life too!
This Saturday, we are holding a FREE Fitness Orientation. CLICK HERE to reserve a spot and Claim 2 Weeks of FREE Fitness Bootcamp sessions. (Offer expires 8/31/17. For new participants or those who have not used our services in the past 6 months.)
Committed to your health & happiness,
Summer Montabone, CSCS and the entire Summer's Fitness Team and Community
PS- We know it can be scary to get started, we get it!
Summer's Fitness is the #1 fitness and fat loss program guaranteed to burn fat and get you in the best shape of your life!
Our high energy, safe, and supportive group environment works for all fitness levels from beginner to elite and delivers twice the results in half the time!
Click here to schedule a FREE Orientation or give us a Call or Text to 330-497-2474 to experience the difference, today!