I hope you enjoy our latest newsletter filled with Stories, Recipes, and more!  
Adjusting Workouts Makes Them Personal — and Better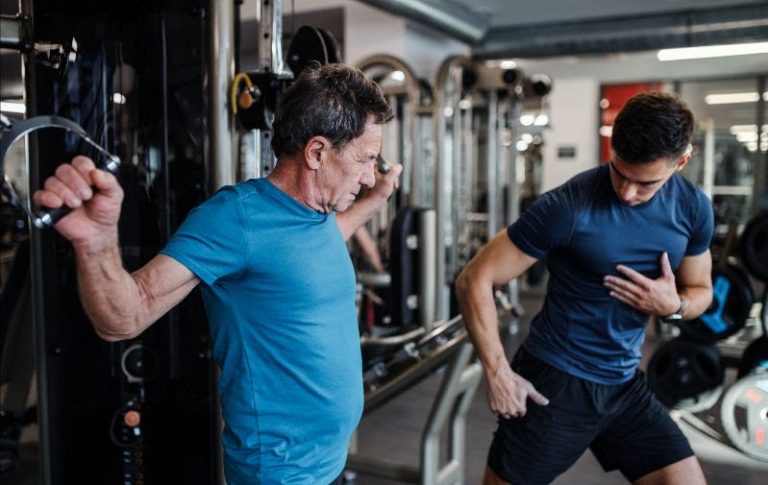 Tony, a lifelong tennis player, is in his mid-50s now. When he started noticing his game wasn't as sharp as it used to be, he thought gym workouts might help restore his power and relieve some pain.
It was the end of decades spent drinking too much and using drugs. At 5′ 6″ and 220 pounds and fired from his job, Tony knew he was out of control.
It took the look on his daughter's face to make him seek treatment and, ultimately, sobriety. "I'll never forget that," he says today, four years later.
Now, Tony has regained his health through recovery from drug and alcohol addiction. He is in spectacular physical condition at 51 and a lean 160 pounds. And, most importantly, his girls have their father back.
"My workout regimen helps keep me sober," says Tony, a metal fabricator, and carpenter. "Life's pretty good right now."
What's A Modification?
A modification is just a simple change to an exercise or a substitute to accommodate an injury, inability or weakness.
There is nothing wrong with needing a modification. Everyone does at some point, even top athletes who have been injured. They don't stop exercising. They just do some things differently.
"I work out. I lift heavy. I play hockey," says trainer Jim Adams, host of the Masters in Fitness Business podcast. "I'm 51. I can still train hard, but you can't train like you're 25. You can't get in with some 25-year-old trainer who says, 'Hey I squat, it's good for me – let's get you on the squat machine!'"
A basic example of a modification is the push-up. For a full-body pushup, you're on your toes and hands for the full range of motion. But some people need to drop to their knees. Others might start out doing push-ups on a wall and work their way up.
This could be caused by a lack of upper-body strength or confidence. But it could also be because of injury. For instance, if you've had surgery to remove a bone spur on your toe, you're not going to want to put pressure directly on it.
Now, as another example, extend that idea to someone who has had knee or hip replacement. It might not be time yet for full-on squats.
Or someone like Tony, who has lower back pain and tight hips.
Make the Workout Fit You, Not the Other Way Around
We're here to assess your condition and individual needs – and to get you going on the workout that's best for you.
If someone tries to push you into a cookie-cutter routine – especially if it's uncomfortable or painful – stop immediately and look for someone else.
Tony did, and he found a trainer who helped him hit the tennis ball harder – and a Pilates class to strengthen his core.
"You know, it's OK to get older. I know I can't do everything I used to be able to do," he says. "I want to work out with a trainer who understands that at least as well as I do."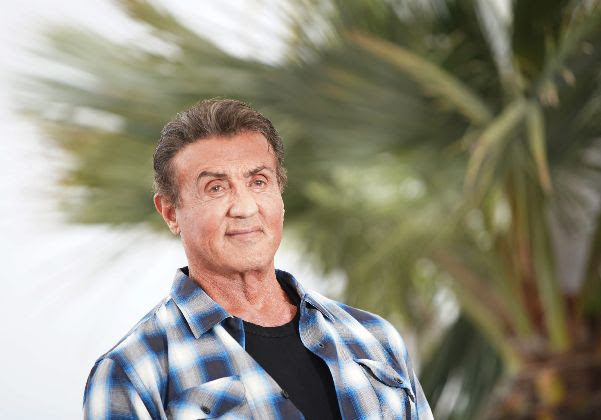 Who You Calling Obese? BMI Isn't Always the Right Tool
Action star Sylvester Stallone is still famously buff at 73. But did you know he's also overweight?
So is Super Bowl MVP Julian Edelman, 33. And his quarterback, Tom Brady, 42.
Yep, all three are overweight according to a common measuring tool known as the Body Mass Index, or BMI.
BMI is a quick assessment to determine if someone might be overweight. But it's not a diagnostic tool and it shouldn't be relied on as the sole indicator.
To calculate your BMI, divide your weight in pounds by your height in inches, and then multiply that number by 703. Or use a simple online calculator. If the result is over 25, you're considered overweight by BMI standards. If it's over 30, that means you're obese.
Your doctor might have measured your BMI. She can confirm it's not a one-size-fits-all solution (pun intended). It doesn't consider all kinds of factors, even gender, and age. Athletic people might weigh more than the BMI says they should. BMI also can underestimate body fat among older people, because we naturally lose muscle mass as we age.
You might want to measure your waist with a simple tape measure. "Start at the top of your hip bone, then bring the tape measure all the way around your body, level with your belly button," says WebMD. Check the measurement after you exhale.
Men should be less than 40 inches around, women less than 35, WebMD says. Talk to your doctor if it's more. Medical professionals and some gyms and studios have more precise tools to measure your body fat, which is much more important than body weight.
To lose fat, you know what you need to do: Eat less and move more.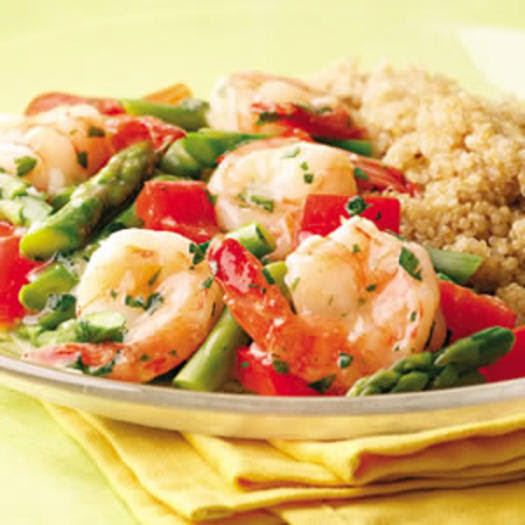 Healthy Recipe, Lemon-Garlic Shrimp and Vegetables
Shrimp scampi lovers will enjoy this healthy twist. Nix the butter and add flavor with red peppers and asparagus for a refreshing meal. Serve with whole grains like quinoa, couscous, or pasta.
Ingredients:
4 teaspoons extra-virgin olive oil, divided
2 large red bell peppers, diced
2 pounds asparagus, trimmed and cut into 1-inch lengths
2 teaspoons freshly grated lemon zest
1/2 teaspoon salt, divided
5 cloves garlic, minced
1 pound raw shrimp, (26-30 per pound), peeled and deveined
1 cup reduced-sodium chicken broth
1 teaspoon cornstarch
2 tablespoons lemon juice
2 tablespoons chopped fresh parsley
Directions:
Heat 2 teaspoons oil in a large nonstick skillet over medium-high heat. Add bell peppers, asparagus, lemon zest and 1/4 teaspoon salt and cook, stirring occasionally, until just beginning to soften, about 6 minutes. Transfer the vegetables to a bowl; cover to keep warm.
Add the remaining 2 teaspoons oil and garlic to the pan and cook, stirring, until fragrant, about 30 seconds. Add shrimp and cook, stirring, for 1 minute. Whisk broth and cornstarch in a small bowl until smooth and add to the pan along with the remaining 1/4 teaspoon salt. Cook, stirring until the sauce has thickened slightly and the shrimp are pink and just cooked through, about 2 minutes more. Remove from the heat. Stir in lemon juice and parsley. Serve the shrimp and sauce over the vegetables.
Nutrition Information:
Servings Per Recipe: 4
PER SERVING: 226 cal., 7 g total fat (1 g sat. fat), 174 mg chol., 514 mg sodium, 14 g carb. (4 g fiber), 28 g protein
From Fitness Magazine
 Meme: Enjoy Every Day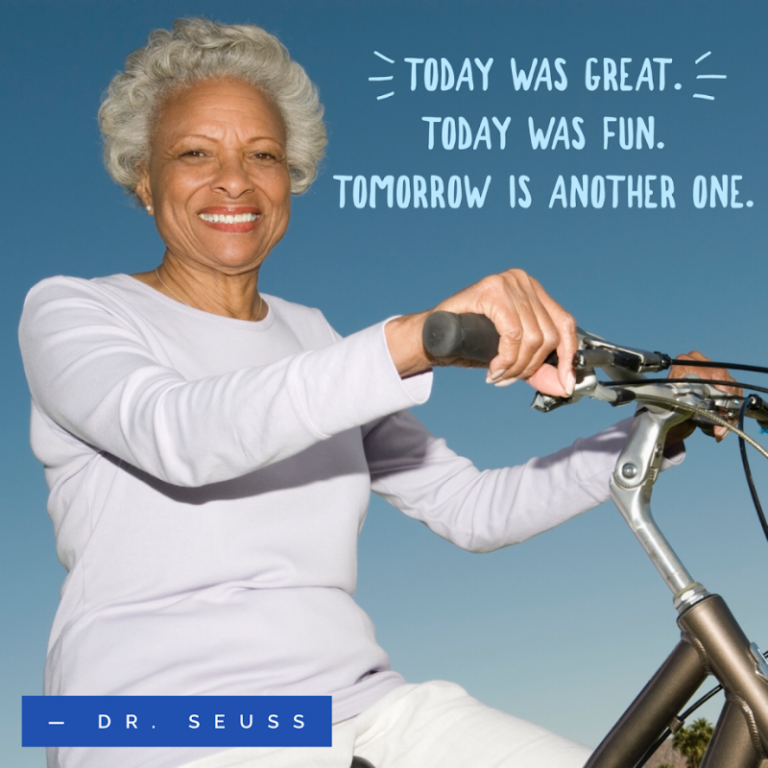 Have a wonderful day!
Committed to your health & happiness,
XoXo
Summer 
PS-
If you aren't already one of our amazing clients, Click one of the links above to reinvent yourself or your "birthday suit" 😉
Don't wait for someone to come to your rescue…. YOU are your own hero. ♥
---
If you'd like to be surrounded by a positive group of like minded people, join my Free Facebook group.
I share Daily Motivation, Recipes, Workouts, Tips, and more! Plus a special event this Sunday. Click the FB group link above to request to join. 🙂
---
Click here to schedule a FREE Orientation or give us a Call or Text to 330-497-2474 to experience the difference, today!