Do you currently exercise?
Whether you are a veteran exerciser or know you need to start, these tips will help you incorporate some simple fitness habits in your life!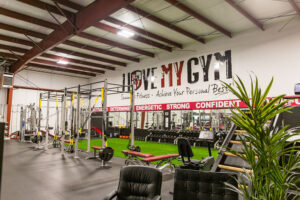 Maybe you find yourself struggling with the "all or nothing" mentality?
How about the "New Year New Me" blah (that 92% of people quit within 30 days)?
Are you always looking for the latest gadget or quick fix?
Stop chasing a short term goal and Start Creating a Lifestyle!
Here are my Top 4 Fitness Success Tips to help you make fitness a part of your lifestyle to improve your health & happiness for the long term.
1. SCHEDULE IT:
It is easy for us to get side tracked or have too much on our plate. Soccer practice, piano lessons, doctors appointments; you live by your calendar.
Here's how you can get started or stay on track:
Schedule EVERYTHING you want to accomplish on your calendar.
Schedule your workouts on your phone, paper calendar, or both.
You don't break appointments, so don't break one with you.
All you have to say is; "I have an appointment."
Set an alert on your phone and stay on YOUR schedule.
Instead of just winging it, schedule it!
What time of day is the best to exercise? Truly it depends on what time works best for you. Don't get caught up on the latest fad, just plug it into your schedule and get it done!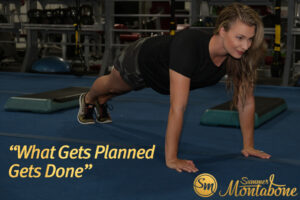 ---
2. MINIMUM 10 MINUTES OF MOVEMENT DAILY:
Your assignment this week is to complete 10 minutes of exercise each day, if you aren't already.
When you do a minimum of 10 minutes of exercise, daily, you keep the momentum going. After all, it's your momentum, or to keep going – not stopping, that is most important.
Ten little minutes, each day, keep both your body and mind primed to stay in the routine of exercise or to get started. This simple 10 minute "rule" has been the key to my most successful clients staying on track, especially when life gets tough and it will.
You can commit to just 10 minutes everyday, right?
Longer isn't better. So put the all or nothing "I have to exercise an hour – 5 days a week" mentality to rest. It's not realistic for your busy lifestyle. If you are just getting started, DO NOT be an over achiever. 30 minutes is the MAX time you are permitted to workout. Going for a hike, bike ride, etc. is good to incorporate, too.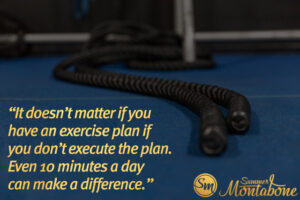 You can grab a Free Copy of my 10 Minute Fitness Challenge, with video instructions at www.10minutefitnesschallenge.com
---
3. WARM UP BEFORE EACH WORKOUT:
If you completed my 10 Minute Fitness Challenge series above then you are no stranger to warm up routines.
Warming up is important so that you can do each move properly and in turn, tighten all those trouble areas. Here's some tips to consider:
You will get a better workout when you have properly warmed up.
Performing 3-5+ minutes of dynamic movements gets the blood flowing, lubricates your joints and ligaments, and reduces your risk of injury.
Save old school or static stretches for AFTER your workout.
The warm ups, included in my 10 Minute Fitness Challenge, are a great way to prepare for your workout sessions or to promote mobility and flexibility on in-between days.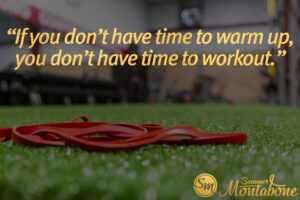 ---
4. "IF YOU TRAIN THE SAME, YOU STAY THE SAME."
That's another one of my famous quotes 🙂
It is good to be in the routine or habit of exercise, but you should not do the same exercise routine over and over, for a variety of reasons.
For example, you may have seen a "30 Squats a Day for 30 Days Challenge". Honestly, those make me cringe. The concept of doing something daily is terrific, but the exercise prescription is not appropriate. Your muscles make the most progress at REST. If you are not recovering appropriately, eventually you will lose strength, cause joint damage, and stall your progress – which is counterproductive to your exercise efforts.
Doing the same, single, repetitive movement everyday can increase your risk of injury, create muscular imbalances, and cause pain. Your POSTURE is also a factor. This is why we, as functional and medical fitness specialists, don't just pull exercises from a hat. We use corrective and functional exercises, after assessing the needs and goals of our clients. If a house has a weak or cracked foundation, you wouldn't try to build up on or fix up the top of the house. You would correct the foundation before trying to fix up, or add to, what is inside or on top.
An appropriate mix of strength, cardio, and flexibility exercises should be included in a fitness program.
Just running or lifting weights or yoga, alone, is not an overall fitness plan. There are 4 components of physical fitness, which impact your overall health, and weight loss goals, to consider:
Muscular Strength & Endurance
Cardio Respiratory Endurance (Aerobic Fitness)
Flexibility & Mobility
Body Composition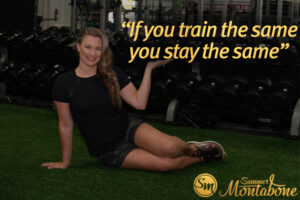 Did you know that most muscle & joint injury or pain occurs due to muscular imbalances? For example there needs to be a 5:4 ratio in the quads to hamstrings and a 3:2 ratio in the triceps to biceps. When these muscle ratios are not "in balance", one is at risk of injury or suffering from pain. Again, this is where our posture is a big factor because the position we put our body in all day long (mainly sitting these days) creates a shift in some of those ratios. Think about that house again with a shifted foundation. Who cares how good you look if you are in pain or as in the case of the house, unstable.
Working with a fitness professional is the best way to make sure your workout regimen is structured to: balance body parts, incorporate all components of fitness, meet your personal needs and goals.
After all, you want to live life to the fullest and your fitness program should be designed to help you do the things you need to do, the activities you enjoy doing, and the adventures you hope to do with greater ease, enjoyment, and less pain!
"Train Smarter, Not Harder." SM
I hope you have enjoyed my Top 4 Fitness Success Tips! Please don't just read them, DO them! The only way to make a change is with action.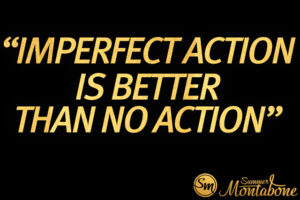 Committed to your health & happiness,
xoxo
Coach Summer Montabone, CSCS*R
You can learn more about Summer's North Canton Personal Training & Bootcamp location, Summer's Fitness at www.summersfitness.com, or Call/Text 330-497-2474.
Click to Learn More about a 1 on 1 Private Training INTRO Offer.
---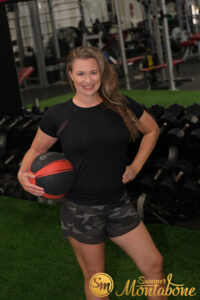 About Summer:
Summer Montabone has a passion for helping people live happier and healthier lives. Her passion has evolved over the years (established) as a personal trainer (1997), health & PE teacher (1998), NSCA-CSCS (2003), NPC/IFBB Fitness Champion and Pro (2004), and fitness studio owner (2007).
Summer has faced numerous amounts of adversity from years of trauma, including, a battle with postpartum depression beginning in 2011.  Summer has received several accolades since 2011 and has made it her mission to help others become the CEO of their own life.
You can learn more about her North Canton location, Summer's Fitness at www.summersfitness.com or Call/Text 330-497-2474.
---
As Featured In Jackson Living