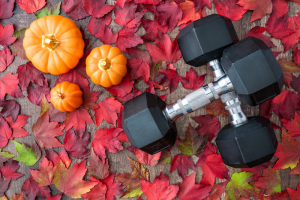 What a year!
Too bad we can't just snap our fingers and enjoy a "normal" holiday season, right?
Well, 2020's unique circumstances can bring a key reminder about living healthy after 50: Exercise, nutrition, stress management are more important than ever – and consistency is vital to getting fit AND to staying fit.
The commitments we make and remake every day brings us long-term benefits, and make us feel better right away.
So, let's not let the holidays throw us off-track — regardless of the choices you make this year to spend time with family, to travel, or to stay at home. How do you stay on track while also enjoying yourself?
Here are our Top 10 Tips.
Be active every day. Maintain your normal workout routine as much as possible. If you're traveling, that might mean bringing some equipment, including an exercise mat, resistance bands, and small weights.
Work out and eat right in the days leading up to your travel or other break in your regular schedule. That will balance out the inevitable calorie spikes you're going to enjoy.
Remain flexible. When you can't hit the gym, go for a walk or a jog. Try some bodyweight exercises. Play with the kids. Lead the family in an outing at a local park or sledding hill.
Don't let a single holiday become a week of gluttony and sloth. If you're driving somewhere, pack a sensible lunch rather than rely on roadside fast food restaurants and diners. And plan to take 15-minute walking breaks every hour or two. … After the holiday, resist the temptation to keep eating leftovers. Get back to your fitness routine as soon as possible, even if you don't quite feel like it yet.
Drink plenty of water every day. It will help keep you from feeling hungry.
Eat sensibly – vegetables first. Eat slowly. Stop when you feel 80 percent full, because it takes a while for our tummies to tell our brains we've had enough.
Limit your alcohol. Too much easily becomes just empty calories that lower inhibitions and lead to sloppy overeating.
Get plenty of sleep. Not getting enough can lead to crankiness and other body disruptions that can lead to, yep, overeating and sloth.
Use smaller plates and glasses, and limit the empty carbohydrates to the treats you truly enjoy.
Calm down and enjoy yourself. Yes, it's important to not go crazy with food and too much sitting around the house. But it's also important to remember that healthy living is a lifelong commitment, and your good habits can sustain, oh, say a second piece of pumpkin pie.
Breaks like holidays are meant to be enjoyed, and they don't have to throw us off track too hard – as long as we know when to get back on.
Finally, keep up whatever spiritual habits you practice, maintain gratitude, and be charitable in word and deed.
We're here to talk about any questions you have about exercise, nutrition and more!
---
Pancreatic Cancer: Age, Exercise and Other Factors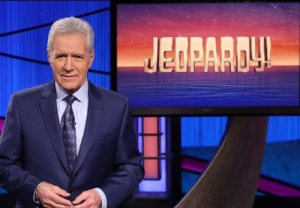 Pancreatic cancer has made too many headlines in 2020, most recently by claiming beloved TV host Alex Trebek of "Jeopardy!" fame. Earlier, Supreme Court Justice Ruth Bader Ginsburg and Rep. John Lewis also died of the disease.
They're among the roughly 50,000 Americans who die each year from the disease, which is often called one of the toughest cancers.
Most cases are diagnosed after age 60.
November happens to be Pancreatic Cancer Awareness Month. So this seems like a good time to learn more about it and your risk.
The cause of pancreatic cancer remains unknown. And it can strike anyone.
But experts have identified certain risk factors – and they say that exercise is thought to reduce the risk and to benefit treatment.
The Pancreatic Cancer Action Network says, "Exercise is an important part of a healthy lifestyle and may help pancreatic cancer patients gain physical strength to help them better tolerate treatment.
"Research indicates that physical activity may have beneficial effects on several aspects of cancer survivorship, including weight gain, quality of life, cancer recurrence or progression, and prognosis."
Also recommended:
Eat a heathy diet
Maintain proper weight
Limit alcohol consumption
Don't smoke cigarettes
But much is beyond our control:
Family history with the disease
Race – African-Americans have a higher incidence
Gender – Men are slightly more prone to get it
While there are some treatments available, the disease is basically incurable.
Please talk to your doctor about screening and risk factors.
---
Brussels Sprouts and Cauliflower Slaw With Oranges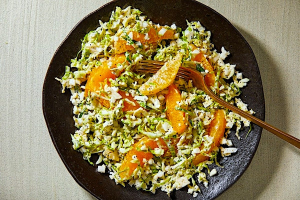 This sunny, slaw-like salad of thinly sliced Brussels sprouts and riced cauliflower is brightened with juicy orange segments and tossed in a lightly creamy buttermilk-poppy-seed dressing. It's a bright winter salad that stands up boldly and brings a fresh counterpoint to the season's savory stews, soups and roasted dishes. From The Washington Post.
Makes 4 servings
Ingredients
2 navel oranges
1/4 cup well-shaken low-fat buttermilk
3 tablespoons mayonnaise
1 tablespoon white wine vinegar
1 teaspoon honey
1/4 teaspoon kosher salt
1/8 teaspoon freshly ground black pepper
1 1/2 teaspoons poppy seeds
8 ounces Brussels sprouts, trimmed, halved and very thinly sliced (about 3 cups)
1 cup (about 10 ounces) finely chopped or riced cauliflower florets
Directions
Cut the tops and bottoms off of the oranges. Stand each orange on its end and, cutting downward following the curve of the fruit with the knife, cut away all the rind and white pith. Working over a bowl, using a paring knife, remove each segment from the fruit, letting the fruit drop into the bowl. Squeeze any juice from the remaining membrane into another bowl and discard the membrane. Reserve the juice for another use, or drink it.
In a small bowl, whisk together the buttermilk, mayonnaise, vinegar, honey, salt and pepper. Stir in the poppy seeds.
In a large bowl, toss the Brussels sprouts with the cauliflower and the dressing. Gently toss in the oranges. Divide among 4 plates and serve.
Nutrition information
Calories per serving: 170
Total Fat: 10g
Saturated Fat: 2g
Cholesterol: 10mg
Sodium: 180mg
Total Carbohydrates: 20g
Dietary Fiber: 5g
Sugar: 11g
Protein: 5g
---
We hope you found this information beneficial whether you are in your 30's, 50's, 70's or beyond!
Remember to put it into ACTION!
Knowledge + Action = Power!
Committed to your health & happiness,
~Summer
PS – Ready to get more healthy & fit, but not sure where to start?
Click Here to fill out a quick form so that we can have a phone conversation to see what program would be the best for you to start! (Virtual or In-Person)
#summersfitnessfamily #strongertogether
---
You can learn more about Summer's North Canton Personal Training & Bootcamp location, Summer's Fitness at www.summersfitness.com, or Call/Text 330-497-2474.
Click to Learn More about a 1 on 1 Private Training INTRO Offer.